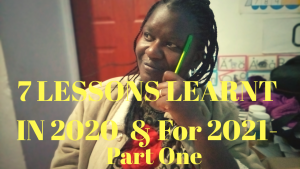 2020 has probably been the most challenging year for the vast majority of us. What with the news of a flu-like disease that started in the latter part of 2019 and spread like wild fire, to an entire world?
It actually seemed so far-fetched, at least in the part of the world I hail from… like the bird flu that we heard of that never quite reached us. In 2020, the world basically shut down.
Following closely in its wake were challenging sicknesses, to say the least, and loss of lives. As if this wasn't enough, massive job losses and other adverse economic effects have been witnessed and experienced by many a nation. We thought that shutting down a few months would contain what has now come to be called the covid-19 corona virus. The shutdown, the containment measures, the shutdown again… stretched to cover an entire year or so.
Even with the rising hope of a vaccine, countries like ours stand a chance of receiving these vaccines probably a year or two from now, at least on a large scale.
As I reflected on these realities and perhaps more, while standing at the portal of the opening year, I asked myself:
What kept me afloat in 2020?
What lessons did I learn in 2020?
Why not jot down these lessons?
Well, that's what this blog is about. I write these lessons in the hope that they will be a blessing to you as well. I pray they will be helpful on your journey, as you look to God for a fruitful 2021, in spite of the realities around you.
Let me do you and I a favor by splitting these lessons into two posts: I hope to cover the first 4 lessons in this post. I will then follow up with the remaining 3 in the next post that's coming to you in a day's time so as not to keep you waiting too long.
Now, let's jump right into the lessons:
I learnt that in a crisis or pandemic, that is the time to step up your time in prayer and in the Word of God.
I write this knowing that many of us have found ourselves facing insurmountable challenges that may be indescribable. This reminds me of an ancient soon-to-be-king who faced such a challenge. Actually, he was already in a bad place because he was a fugitive king. You can read of his plight in 1 Samuel 30.
These words however became the gamechanger for David:
"… but David found strength in the Lord his God." (1 Sam 30:6b)
God wants to strengthen you and I in our lowest moments. He wants to intervene on our behalf. Even when its not making sense, keep walking with Him in your Quiet Time; keep seeking Him in the Word and in prayer. This is even easier when you have already developed the custom of daily walking with Him in your Quiet Time. Perhaps you're reading this and wondering: How can I effectively have my Quiet Time? You can read this blog here to help you further.
I learnt to keep doing what I was convinced is God's will for me to keep doing, even in a crisis
When our country shut down, I was in the process of writing a book on marriage. The realities of the pandemic and the shut down unsettled us a great deal. We were also running a discipleship program for a few young people. We were faced with decisions we had to make as a result.
One of the things my husband and I knew we could keep doing was writing. We immersed ourselves into writing. We eventually completed the manuscripts of the book each of us was writing. We then edited each other's books before sending to a friend to edit.
The change of season may just afford you the time to do things you always wanted to do or have never done. Crisis has always been a huge jump starter to great innovation in history. Spending time with God has a way of helping you find clarity and affirmation concerning what you should be doing, especially in crisis. This serves to keep you from being idle and hence falling into sin through stuff you may be watching for instance. It keeps you from stress and depression.
I learnt that I must continue with my times of fasting, including extended periods of fasting we had scheduled in the year
God wants to reveal Himself to us. He wants to show us His will and to enable us to do it. He says:
"You will seek me and find me when you seek me with all your heart." (Jeremiah 29:13)
He also says:
"… anyone who comes to Him must believe that He exists and that He rewards those who earnestly seek Him." (Hebrews 11:6b)
There are certain things God will reveal because we are seeking Him earnestly. Fasting is one of those ways of seeking Him diligently. No wonder Jesus would tell the disciples that certain demons can only come out but by prayer and fasting. (Matt 17:21 KJV).
Our decision to get into the online space in ministry this year came as a result of clarity from God to do this on one of the days we were fasting. God speaks. As we fast, we predispose ourselves to hear Him, especially in times of crisis such as was the case with king Jehoshaphat in 2 Chronicles 20.
I learnt to break down my 'big picture' into small attainable goals that I trusted God to achieve each day:
When you and I walk with God, He will definitely put that big picture in our minds and hearts of what He wants you and I to achieve, for His glory. Remember, we are His coworkers. What we achieve each day fulfills the bigger picture of gathering in the harvest of God's harvest field, whether we are aware of it or not, as long as we are yielded to Him.
We then must trust Him to write down achievable goals and work towards achieving them each day, even if it means asking a friend or a spouse to keep you accountable. Finishing to write the books we were writing for instance, reading a small part of a book each day, staying consistent in Quiet Time, prayer, exercise and some of our online platforms has been a result of goal setting and accountability.
Look out tomorrow for the next blog on the last three lessons I learnt in 2020 that I hope you and I can carry into 2021!