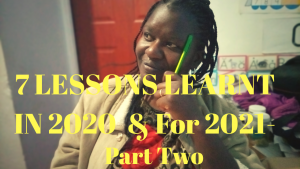 Let's face it: 2020 has probably been the toughest year in recent history for the vast majority. We have come this far by the sheer grace and by the mercies of God. Who ever thought or imagined that the entire world could shut down, literally? It looked like a bad dream that you and I would soon rise from and find everything back to our familiar normal. The crisis brought on by the covid-19 corona virus has raged on and on.
As I reflected on 2020 while standing at the portal of the opening year 2021, I knew that all things work together for good to them who love God, to them who are called according to His purpose. (Romans 8:28)
I therefore asked myself: What good could possibly come out of 2020? What lessons have I gleaned from 2020 to help me forge ahead into 2021? I have captured the first four lessons in this blog here where I wrote the first four lessons I learnt in 2020 that I hope to continue applying in my life in 2021.
In this blog, I share the three remaining lessons with the hope that all 7 lessons will be a blessing. I pray they will add value to your life as you get into the new year.
Let's get right into the lessons:
5. I learnt that I must go ahead to do what I sensed God was leading me to do, sometimes afraid
God severally commands us in His Word not to be afraid; not to fear. He is with us. God will show Himself mighty and strong on our behalf, in a crisis, when we trust in Him and forge forward. He then will enable us to deal with the fear within and without.
Our entry onto the online space was one such experience for us. We were analogue; almost 100% in our operation. We even prided ourselves for it. As we got to mid-2020, when we sensed God lead us this way, we made faltering steps, afraid. We are still faltering but moving on, depending on the strength of the Lord to minister on the online platforms He has availed to us.
What might God be commanding you to do as you get into 2021? Go in. Go afraid if you must. He promises to be with you.
6. I learnt that I must be flexible and teachable
None of us has ever faced some of the realities we faced in 2020. What this has meant is that we have had to learn to navigate around some of these realities. We have had to learn new things. If not new things, we have had to learn a new way of doing things.
The younger generation, some of who we walked with, have been very instrumental in helping us learn how to navigate the online space. We've had to learn a lot in this area. I bet most of us have learnt to do zoom meetings for example.
We've leant new skills, crafts, and the like. 2021 God willing, comes with new opportunities to learn and grow. I pray we will not throw away some of the God ordained opportunities God is availing before us, especially opportunities to grow spiritually.
7. I learnt to pause, reflect, look around, and to be thankful for what God has done and is doing
2020 has been a challenging year. The fact that I am alive to write this and you are alive to read it attests to the grace and mercy of God. On the morning I wrote this, I read Genesis 36. Verse 1 to 7 stood out for me. As I stand at the portal of 2021, I don't want to cross over with bitterness, unforgiveness and anger. I don't want to cross over depressed and hopeless.
This is too much baggage for the coming year. I want to lay it all down at the cross of Jesus. I want to move into the new year, like Jacob did in verse 4. He buried all the foreign gods his people might have carried on their way to Bethel.
In everything, give thanks. (1 Thessalonians 5:18)
This is a game changer for you and I as we get into 2021. I pray these lessons will be helpful for you for 2021.
May God do exceedingly abundantly above all you ask or imagine according to His power that is at work within you. To Him be glory in the church and in Christ Jesus throughout all generations for ever and ever! Amen (Ephesians 3:20 – 21)
You can watch the video here: