Check out this truuuuly delightful Ginger Cake that you can make at home. The ginger taste is simply amazing!
The ingredients are basically toned down, making it suitable for your tea times at home, for your guests, and even as a birthday or celebratory cake. You can even reduce the sugar further!
Our children absolutely love this Ginger Cake; the adults too! I know you will as well.
All the ingredients are locally available. Find out how you can bake it without an oven on a gas cooker or gas stove.
I made it with whole-wheat Atta flour, but you can also use all-purpose flour if you would so choose. Try it and enjoy!
Find the link at the tail end of this recipe that shows you how I make really simple treacle at home. I used this treacle in the cake and like I told you; the cake is delicious!
May this enhance your hospitality to the glory of God!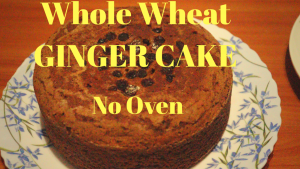 INGREDIENTS:
2 cups whole wheat flour/ Atta
2 teaspoons baking powder
1/4 cup sugar
Optional: 1/2 teaspoon ginger powder
2 tablespoons grated fresh ginger
1 egg beaten
1/2 cup salad oil
3/4 cup milk
1/3 cup treacle
1 teaspoon vanilla essence/ extract
Optional: a handful of raisins (dust with flour)
1 teaspoon marge/ fat to dust pan and a little flour to dust it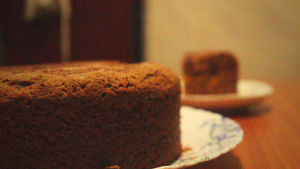 METHOD:
Begin by combining all the dry ingredients in a bowl until well mixed.
In a different bowl, mix the egg, salad oil, vanilla, half the milk, treacle and the fresh ginger. Beat with your wooden spoon until well blended.
Begin to pour the dry ingredients into the wet ingredients, a little at a time, mixing them in and beating to a heavy paste.
Pour in the rest of the milk and beat further to a smooth paste.
Select a pan that's fairly heavy and one in which the butter will be slightly below half the pan to give it space to rise.
Grease the pan evenly on the inside, then use a little flour to dust it.
Pour the butter into the pan; place the pan on a flat surface and swirl it around a little to smoothen the butter out on top.
Sprinkle the raisins on top of the butter. Ensure the raisins are dusted with flour so that they don't sink. Cover with a clean lid
Switch on your gas stove/ cooker and place the butter onto the fire. Allow it on high fire for a few seconds just to heat up the pan.
Next, turn the gas knob slowly as though you are switching off the fire and take it to the lowest flame; the kind that if you blew on it, the gas will go off. This is the kind that will bake your cake without an oven. Or else, your cake will burn. It could take two or three trials sometimes because it can go off as you try. Don't give up though, keep at it and get to that flame. The more I've done it, the easier I now get to this flame the first time. I sometimes miss it though! *Please note that the lowest flame on most gas cookers/ stoves is still too high for your cake. Ensure you turn the knob as though you are switching off to get to the lowest flame I am describing!
Bake on this very low flame for anything between 50 minutes to 1 hour 20 minutes depending on your gas cooker/ stove or flame.
Once it's ready, (when your toothpick/ sharp knife/ tester comes out clear when you insert it into the cake) turn it onto a clean lid. Your cake is ready!
In case you want it to brown even further on top, immediately turn it over onto a clean lid. Then turn it again onto another clean lid to ensure the top is back up again. Carefully turn the cake back into your pan so that this top part is inverted into the pan you used to bake the cake while still hot.
Put it back onto the very low fire and bake for 10 minutes. These are enough minutes to brown the top of your cake to a golden brown.
Turn it out onto your cooling rack or appropriate plate. Allow it to cool. Your cake is ready to enjoy!