A few days ago, I wrote a blog entitled: How to have an Effective Quiet Time with God — 7 Simple Steps. You can read it here.
It then occurred to me: Might someone be wondering why they should have Quiet Time with God every day?
Is it even necessary? Another might quip.
Wasn't it enough that I got born again? Is there more? Must I be this systematic in an effort to cultivate my relationship with God? Another may wonder.
These and perhaps a myriad more questions might just be some of those I hope to respond to in this post.
Before we go into the reasons, let me first state that God has called us into fellowship with His Son Jesus Christ (1 Cor 1:9)
Experiencing the eternal life, God has promised involves knowing Him and His Son Jesus Christ.
Quiet Time is that time I set aside in order to fellowship and commune with God.
I know not another book through which God has revealed His will, His purposes and His ways more than the Bible. The Bible is the sum total of who God is, his divine nature, his will, his love, and his expectations upon us and so on.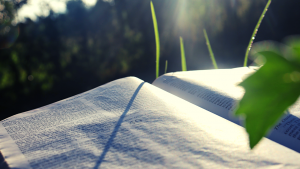 In Quiet Time, you and I have the awesome privilege of communing with God in His Word. This same Bible tells us:
"Do not let this Book of the Law depart from your mouth; meditate on it day and night, so that you may be careful to do everything written in It. Then you will be prosperous and successful." (Joshua 1:8)
David echoes these same words in Psalm 1:2:
"But his delight is in the law of the LORD, and on His law, he meditates day and night"
David is talking about a man who is blessed.
We therefore understand that it is God's will that we relate with Him deeply and personally.
It pleases God when we spend time with Him in His Word. Quiet Time is perhaps the best platform to achieve this; at least on a daily basis.
Now, having said this, let's jump into the reasons why you and I should have our Quiet Time.
Because 12 can be a huge chunk to read, I thought to split this post into two.
This first one will cover six reasons. I will follow up with another one next week that will cover the remaining 6 reasons why you and I should have our Quiet Time with God
Let's now get on with our first 6 reasons:
You have the awesome privilege of deliberately getting your mind off everything else to focus on God for clarity, perspective and direction for your life
Finding clarity, perspective and direction for your life is so important. It is as you do this that you have the opportunity to know and experience who God is and what He has said. You can then view everything else concerning your life in light of this.
I recently found myself overwhelmed by the many things I needed to do during a particular week. My husband informed me we had a guest coming to spend the day with us.
We agreed he would spend the day with the guest while I took care of the other things that needed my attention.
On the very day, during my Quiet Time, I got this strong impression; a reminder from God actually, that He has called us to minister to His people.
The short of this story is, I laid aside what I intended to do; we both spent time with our guest that day.
Focusing on God first helped me regain my perspective concerning God's calling upon me, giving me clarity and direction concerning what I needed to prioritize and do that day.
You get to know the general will of God, a necessary foundation for knowing His specific will for you in a given situation or circumstance
There is no way that you can give focused attention to God and His Word daily and fail to know His will in the broader sense.
A pastor may not need to tell me not to steal; I get to know this through constant exposure to God's Word.
This will be an important part of knowing God's will when I am faced with a situation like I was faced with: A public service vehicle operator somehow skipped me as he held out his hand to receive the bus fare from the passengers. I had the choice not to give it to him, hence committing the sin of stealing, or to do the right thing and pay my fare.
The former is God's will for us not to steal, in a general sense; the latter is His will for me not to steal, at a personal level.
In having my Quiet Time, I am basically acknowledging my need for God; apart from Him, I can do nothing
It is in the deliberate choice to spend time with God that I am letting God work in and through me. I am acknowledging that I need Him; that I cannot go on without Him. God is pleased to work in and through those who depend on Him. This is humility.
This season was rather busy for us. I knew that this was the more reason I needed to spend time with Him.
Looking back as we get to this part of the year, I find we accomplished so much more than if we decided to do it in our strength alone.
It's strange that I would never have realized this until at the end of the season. It seems this is where the catch is; faithfully walking with God day by day even when you seem to be making little or no progress at all.
You are making progress when you do it with God. He will multiply your feeble effort with His matchless strength and ability. You will see greater things accomplished, all for His glory.
In Quiet Time, you are providing a conducive environment for you to hear God's voice to you through His Word
A few days ago, I read in Genesis the story of how Sarah talked her husband into sleeping with her handmaid in order to build her family line through her. (Genesis 16:1-3)
As I wrote what I was learning, I knew God was speaking to me as a wife: To faithfully walk with Him so as not to lose sight of His will for us as a family. I can then minister aright to my husband so He'll not stray from God's Will.
Right there, I can say God spoke to me concerning being the right helper to my husband.
Your days will get ordered aright for the glory of God
Beginning my day with God in my Quiet Time has worked wonders for me.
God enables me to have clarity of why I am doing what I am doing.
because of that sense of knowing God is with me, I'll tend to spend time wisely; not on time wasters such as too much time on social media, movies or in useless talk.
I am not yet perfect but my days are more fruitful when I spend time with God in my Quiet Time.
For instance, I will never get to my phone early morning (unless when using it to read God's Word)
I will get to my phone after my Quiet Time, Scripture Memory review, my morning prayer and exercise routine and my goal setting for the day.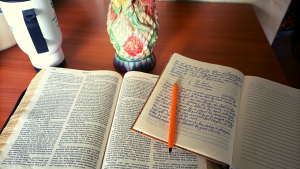 This has honestly worked to help me order my day aright and to glorify God as a result.
In Quiet Time, one is able to slow down and reflect on the past few hours, or day, a necessary exercise to forge ahead stronger and better
Because my Quiet Time has included journaling, I often take time to reflect on and summarize my previous day.
This has for instance led me to seek God's forgiveness over something I realize I did the previous day that wasn't right such as wrongfully using my time.
I then forge ahead better and stronger for it, looking to God to be more fruitful.
I can also reflect on whether a certain strategy for achieving a given goal worked, needs improvement or didn't work.
One of the reasons why my morning routine includes a thirty-minute walk for exercise is because past reflection has shown me other hours do not work for me having tried them before. This is a practical example of how reflections of my previous day help me get better.
How does all this have to do with formations of a noble woman?
Much in every way! Time spent in the presence of God is never a waste. God is at work! I know this from experience.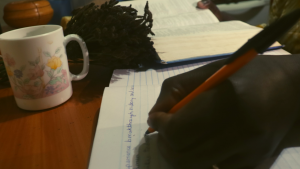 Ask Moses! When he came from the presence of God, his face shown! (Exodus 34:29)
This present new covenant in Christ surpasses the glory of the old covenant under which Moses was!
You may not literally see that glory like it was with Moses. The children of Israel needed this literal display of God's glory, to believe.
The outcome of your life; in thought, word and deed, will display to all, in the course of time, that you've been spending time in the presence of God.
As you spend time with Him in His Word and prayer, He will form you; He will transform you. You will begin to see your life change for the better, for his glory, because you are consistently spending time with Him.
Remember, His Word is living and active. It's sharper than any double–edged sword, penetrating even to dividing soul and spirit, joints and marrow; judging the thoughts and attitudes of the heart. (Heb 4:12)
Who wouldn't be transformed in the light of this Word? His Word taken in by a sincere woman, a sincere wife, a sincere mother?
Because certain things are better experienced when done, I would encourage you to begin this valuable discipline if its not yet part of your custom. The blog I referred to earlier will be helpful for you to know how to go about beginning a Quiet Time Routine and doing it.
A few months down the line, you will look back and see that actually, God is at work forming you.
I pray these 6 reasons will be helpful in your journey as you seek to fruitfully and effectively walk with God.
In this coming week, I will share the rest – 6 more reasons – to help you garrison your conviction of seeking to spend time with God in Quiet Time.